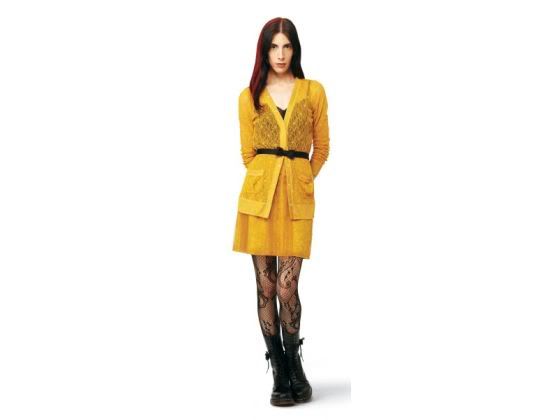 I woke up early to finish getting some stocking stuffers and toys for my sister at Target - convenient excuse, right?
I tried on pretty much everything from the Rodarte for Target line (other than the shorts and skirts which had no hanger appeal for me). I thought the nude tulle/slip dress might be cute if I cut the bows off, but the fit on it was absolutely horrifying. Not only did it make me look about 30 pounds heavier in every size I tried (XS, S, M), but it made my boobs look nightmarish - unacceptable! I haven't had much luck with fitting on the Go International! lines except for the Paul & Joe one a few years back. I ended up getting the mustard lace sweater pictured above, though. It was nicer in person that I expected. I liked the nude one, but I thought the color washed me out a bit. The grey cardigan/scarf combo was soft and comfy, but not worth almost $50, in my opinion. The bathing suits looked potentially cute, too, but it was too cold for me to be in the mood to try on bikinis.
But, Merry Christmas to me! :)
Did anyone else get Rodarte things today?