I truly feel like there is no need for me to elaborate much on this post. Navy, black, brown, tan, whatever. Mix plaid with plaid if you make it work. The only rule is to look good doing it.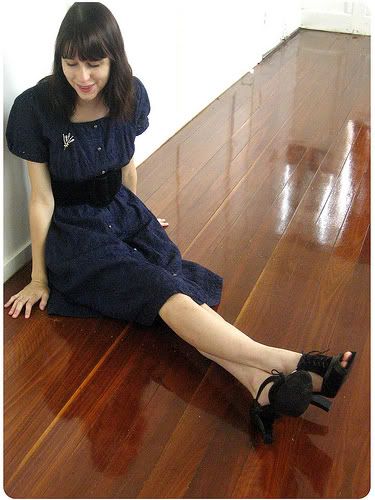 I will say this, though - I don't think navy should count as a "neutral." I realize this picture isn't true navy, but still - technically speaking, I don't think navy counts as a neutral. But mix neutrals, wear navy, fear not! Whatev's, life's too short to give yourself a migraine when you get dressed.
Gianfranco Ferré Fall 2008
This is my favorite! Tanned brown leather with a rustic belt on black. Tooled leather is even better! All the time, this is my favorite.
Rumi rockin' it. Which brings me on to the open toes with tights. Even this I am just barely starting to get used to myself. It has to be the right tights and the right open toed shoes. None of this crap:
Bleh
And what is this Labor Day of which you speak?