Yeah, I am so dying my hair. Got the dye at Wholefoods & my aunt is going to help - aka make sure I don't screw up badly (she's a pro).
The box I got looks like the one on the right, but I don't want it that dark. The box on the left is the same color, though. The final result depends on how dark your hair is when you start, so I'm assuming lady on the left was a blond and lady on the right was a brunette. I'm hoping for something similar to the sample in the middle, so I probably won't keep the dye in too too long. I don't need a crazy vibrant red.
(Photobooth had holiday stickers and I couldn't resist since I was already making that ridiculous face)
So, this is my hair now - ie long, grown out blond highlights, light brown overall
I'm not planning on cutting it at all and my friend said I was going to have mermaid hair. Kind of excited, not gonna beat around the bush (as long as I don't mess everything up terribly).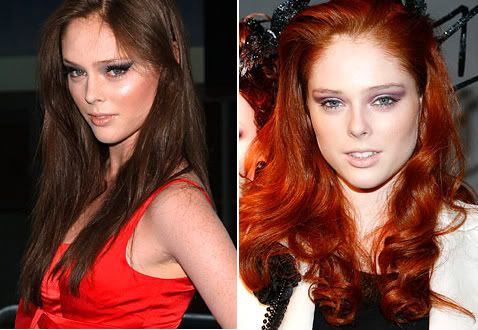 Coco's before and after. Granted, I won't be going THAT red (ideally) and I'm not quite that pale. In fact, pretty much everyone who looks awesome with red hair is pale, so I guess it's a good thing that it's winter.
RETRO REDS:
INDIE REDS:
REDS IN FUR HATS(?):
ISLA FISHER AND AMY ADAMS LOOK A LOT ALIKE... AND HAVE RED HAIR:
BITCHY REDS:
FIERCE FASHION REDS:
AND, FOR GOOD MEASURE, ANIMATED REDS:
(I totally should have done this two months ago and been Jessica Rabbit for Halloween... damn)